December 13th, 2009
Colombo is a busy city that stretches down the west coast of Sri Lanka. It seems that the entire coast is connected by Galle road, which has so far stretched over a hundred kilometers as we've journeyed south. It has wound its way through every little town we've been to, a familiar presence and convenient directional marker. So far, travel has been amazingly simple. North, south — the train timetables read up, down.
In this regard we were lucky when exploring the capital. Not knowing much about its geography, and attempting to stick to a budget, we booked our first nights on the island at a guest house in the southern suburb of Mt Lavinia. We essentially made up the difference in room price with the taxi ride from the airport. Woops. So, naturally we tried to economize the rest of our time in Colombo by trying our luck with the local bus, with decent success.
Somehow, this type of blind luck is the name of the game here. This island of Serendib is less convoluted than India, and one can find his way with relative ease. Up, down, cross some train tracks, turn a corner…
This is a warm country – not only in weather (thank you, gods of air-con) and spice, but people as well. As with any tuk tuk country, there are touts and hawkers, but the vibe is decidedly more relaxed. We are regularly engaged: "where are you going?", "you are from?", "where do you stay?", "America? Barack Obama good man". In most other touristy areas, these would come with a hard sell. Here, people respect "no thank you." And, as was the case with our septegenarian host in Colombo, are eager to have a deeper conversation. It comes with the relaxed pace of island time, even an island as big as this one. A languid stroll, an unhurried lunch break (things often close mid-day), an extended talk. Our host, whose suburban guest house turned out to be a relaxing base, told us of his earlier exploits as a computer man and telecommunications expert, and shared travel pictures from his earlier years — his wedding portraits, snapshots from Europe, Africa, Asia, Disneyland.
These first generous conversations would be indicative of the friendly attitude here, repeating on a train, at a café, and other lodgings. There are not that many tourists here, compared to India and Thailand. The concept of a hotel seems relatively new here, and many hotels are family-run. In fact, a "hotel" is traditionally what we know as a restaurant, a lunch place. But the real treats seem to come from the kitchens of the guest houses, which often take hours to prepare your meal. It is often required to order in advance, and for a traditional rice and curry, even the night before. You are not just another customer, you are being cooked for. It's a rare and welcome treat, coming from crowded India.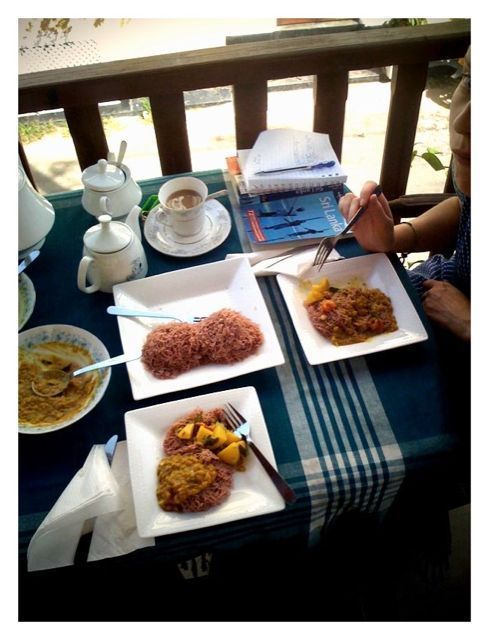 Which is not to say that we've only eaten at the family table, by any means. We've had (mostly) excellent luck at local restaurants, which are literally ten times cheaper and ten times hotter than the tourist ones. Tourists, it seems, don't like spicy food. Their loss. Rice and curry, a typical lunch, is fiery and eaten with one's fingers. It is different from Indian food – much less oily and with more intact chunks of ingredient. Greens aren't puréed but left whole. Vegetables are cut in large pieces, and so are the delicious spices — clove, cinnamon, curry leaves, cardamom, and those delicious hot peppers of all sizes. But I'll leave the details for the Food Issue, hitting your RSS feed sometime soon.
From Colombo we traveled by train to Aluthgama and Bentota, neighboring towns about 2 hours south. We stayed in the former, cheaper, lakeside town and walked over the bridge to the resort-dotted beach in Bentota.
This town, full of hotels run by and for Germans and Austrians, was dreary. The beach-side resorts, with manicured lawns and lovely pools, looked as if they were built for previous years' crowds. This fact was subsequently confirmed by a proprietor; the economic downturn trickles down. There are few vacationers this year, and the area's unfilled capacity reminded me of the Waikiki i saw a few years back, empty but for an air of bygone tourism circa 1982, rusting, desolate.
We continued onward to Galle, which has been refreshing. A seventeenth-century fort, it has survived Dutch, Portuguese and English rule, and even the 2004 tsunami. And, though the town has metastasized inland, the fort's aging fifteen-foot walls to this day enclose an active community. Despite several hip hotels and western-style coffee shops and boutiques, and even literary and film festivals, its charming streets still house Sri Lankan families. Every day, children play in the streets and neighbors leisurely catch up along its streets. There is a real sense community, as evidenced in a book, Around the Fort in 80 Lives that profiles the characters who live here — from food hawkers to the librarian, mosque attendant to mural artist.
We wandered dusty streets on several occasions, capturing the town's photographic gems. On one occasion, we escaped the rain in a coffee shop, whose proprietor regaled us with more tales of youth — in his case, oil work in Saudi Arabia and journalism work. He gave us travel tips (rub soap on your legs to deter leeches!), told us of his many international recipes, and even gave us gemstones from his family business. The sign outside his shop reads "Fazal Jiffry Storyteller" but no words were needed when he shared post-tsunami photos. Though the Fort, with its massive walls, withstood the onslaught, the rest of the city did not. The storm's waves wiped out much of the coast, tossing city buses like Hot Wheels cars.
***
Today is AKB's birthday and we woke up extra early to go down the coast to photograph the famed stilt-fishermen of the area. The expedition was a bit of a bust, since they evidently fish much earlier than we had anticipated. We could have waited for the 10-o'clock tourist rush, when fishermen, possibly "real", possibly not, pose for foreigners. But, we decided that there are probably loads of these set up photos on flickr already, cut our losses, and headed back to our favorite beach, postcard-perfect Unawatuna for more sun tanning scorching and the good life.
Tomorrow we leave Galle, and head… somewhere! We have lots of time in Sri Lanka and several days in the itinerary unplanned. We'll let you know as soon as we do!